News: Progress in the LDraw community
Progress in the LDraw community:
Where we've been, what we're doing, and where we'd like to go.
By: Tim Courtney
May 2, 2001
The second anniversary of LDraw.org is now only two months away. It seems only yesterday this site was launched with high expectations. In that two years, what has been accomplished? Of the many original goals the contributors had, how many have been realized?
The empty placeholder pages on some of the site's areas signal to some that not a lot of progress has been made. A lot of discussion has taken place in the LUGNET newsgroups with suggestions, goals, and standards. In fact, take a look at certain areas and they've been placeholders for a long time - the Repository is not yet online, and only recently did the site add Reference materials.
On the other hand, the community has come a long way. Things are less spread out now than they were two years ago. There has been a help desk email address added to the site, some Reference items are popping up, and the installation process is explained clearer than it has ever been.
LDraw.org now gets between 2000 and 2500 main page hits every week. Downloads of the original ldraw.exe file are around 500 per week as well. The tools offered through the site are well known on the internet - one LEGO Mindstorms homepage (on the official LEGO Mindstorms website) referred to MLCad in his page in a manner which assumed the readers were familiar with it.
For a volunteer effort, the LDraw.org website project has come a long way. But at the same time it has a long way to go. Eventually, it is the site staff's desire to have critical areas of the site fully automated so updating is a breeze. Once that is accomplished, the wait for updates (which is and has been in the past at times unbearably long) will lessen. More options will be available to site users, and the site will at last have the potential to be a truly centralized LDraw resource.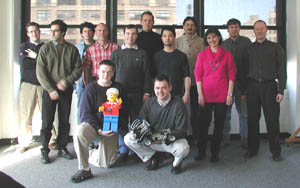 CAD Summit Group - Top Row (L-R) Kiernan Mathews, Leonardo Zide, Steve Bliss, Peter Kennard, Michael Lachmann, Lars Hassing, Tomas Clark, Brad Justus, Olga Timcenko, Erik Olson, Flemming Hansen. Front Row (L-R) Tim Courtney, René Schalburg. Not pictured are Ian Johnson, Jake McKee, and Mike Giuggio.
In February, a group of the core contributors to LDraw were able to meet in New York City. There was a conference about LEGO and 3D technology, which involved LDraw contributors and LEGO employees. LEGO is interested in the work being done by various people online in this area, most notably those who work with LDraw. Nothing else can be said about the contents of the conference for the time being.
Outside of the meetings with LEGO employees, the LDraw contributors discussed such issues as an official Parts License, creating a formal LDraw Organization, and various website issues. The time spent talking face to face was viewed as incredibly productive by all involved. This spawned a series off off-LUGNET discussions which continued talk about the aforementioned items.
Since the meeting in New York, the Organizing Committee (which consists of Tim Courtney, Steve Bliss, Jacob Sparre Andersen, and Terry Keller, and is chartered with creating a parts license and forming an organization) has worked with some LDraw related software developers to come up with a parts license which allows the LDraw parts library to be distributed with other programs.
There has also been talk of creating a formal organization. As of recently, discussion of that has died down, but it will be picked up again soon and hopefully an organiziation will be in place in the next couple months.
A major effort going on right now is the development of an interactive Parts Tracker, Submission, and Approval system. Steve Bliss and Dan Boger have been working on this web application which will track parts being created, allow them to be reviewed and approved for an official update, and pass them along to the parts library where users can download them. This will replace the previous system of a parts vote, which took a considerable amount of effort and was not perfect. No estimated completion date has been set, but this project is a high priority. Steve has asked for help in it's development as well in this LUGNET newsgroup post.
In our constant attempt to make downloading and updating LDraw related tools easier, we plan on splitting up the Download section by operating system. Soon there will be Windows, Macintosh, and Linux sections of the Download area, with software listings for each OS.
There has been much excitement in the Macintosh community over LDraw tools. Erik Olson has continued to develop BrikDraw3D, which has produced excited email discussion regarding Macintosh programs. The LDraw for the Macintosh Campaign is a notable website where those who want to see the tools for the Mac can sign a petition, and where LDraw Mac news gets posted.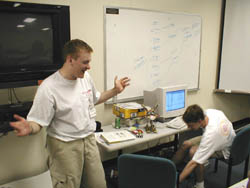 Tim Courtney and Bram Lambrecht demonstrate LDraw and take questions at Brickfest 2000, held at George Mason University in Arlington, VA.
This summer, Tim Courtney, Erik Olson, and Bram Lambrecht will be holding a panel discussion, demonstrations, user meeting, how-to session, question & answer table, and free-ranging discussion at Brickfest 2001. Brickfest is scheduled to run between July 13-15, and is the largest annually held 'Legofest.' Look for more news about the LDraw segment on LUGNET and on LDraw.org, and ways you can help out if you are planning to attend.
The LDraw community is continuing to grow. Those involved with the site have put forth considerable effort to ensure that the community continues to grow. In the future, the organization plans to facilitate that community growth by becoming involved in various events, developing new website features, and taking feedback from its users.
The organzation encourages LDraw users to get involved with the site and with the future of the community. If you have something to contribute, please contact Tim Courtney to discuss your interests and to see where your skills best fit. LDraw.org is a non-profit, volunteer group of contributors who are dedicated to keeping alive the contribution James Jessiman gave 5 years ago with the LDraw package and DAT file format.