News: MLCAD Resources incorporate with LDraw.org
MLCAD Resources incorporate with LDraw.org
By: Tim Courtney
December 16, 2000
Today LDraw.org released a new subdomain, mlcad.ldraw.org. The new site will be responsible for the maintenance of the MLCad resources on the web. In the near future, MLCad tutorials and tips will be made available at the new site to aid users in getting the most out of the software.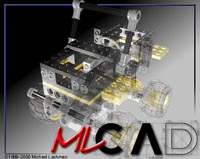 MLCad Splash Screen Logo. Artwork by Jeff Boen.
Throughout the next week to two weeks, MLCad resources will be undergoing a slight reorganization. MLCad's author, Michael Lachmann, has recently purchased a domain name for his new software company, http://www.lm-software.com. Michael, alongside Tim Courtney and the LDraw.org staff have been organizing the release of mlcad.ldraw.org for a while now. A few setbacks (mostly consisting of ISP limitations) prohibited them from going on with their original plan - moving the official MLCad site to mlcad.ldraw.org. The solution to the problem is as follows: ALL downloading of MLCad program files will be done through Michael's site, for his statistical and business purposes. MLCad resources, such as tutorials, tips, and reference materials will be stored at mlcad.ldraw.org.
Because of the unexpected change of plans, the LDraw.org staff has not had the opportunity to put this all in place yet. But over the course of the next few weeks these changes will be put into full effect. Further announcements will be made when more resources are available.
This effort is a part of LDraw.org's changing focus to include more of the second- and third- generation Windows based editors which have become increasingly more popular over the past year. LDraw.org feels that these new editors are an important aspect to LCAD and desires to support the users and the programs which they use.
Questions and comments should be directed through Tim Courtney.