News: LDraw Display at LEGOLAND California Kidvention
LDraw Display at LEGOLAND California Kidvention
By: Tim Courtney
July 18, 2000
Legoland, CA - The week of July 12-15, representatives of LDraw.org set up a display at the Lego Maniac Kidvention to help spread the word about LDraw and the online Lego community. Among the people there were Tim Courtney, Terry Keller, Bram Lambrecht, Mike Poindexter, and Thomas Michon and family. During that time, the demonstrators built Jin Sato's MIBO robotic dog, for demonstrations of the uses of LDraw-generated instructions.
Thank you to all of the guests who came out and inquired about LDraw. We all had a great time talking to you and showing you this wonderful tool!
Pictures of the Event
Pictures of the event have been added to Brickshelf.com's gallery. Also, see Tim Courtney's LUGNET post with a commentary on the images.
LDraw at Legoland Kidvention Display Pictures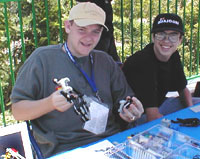 Tim Courtney and Thomas Michon build MIBO, Jin Sato's LEGO Mindstorms robotic dog.
Renderings Available Soon
For those of you who are interested in obtaining copies of the images used in our posters at Kidvention, they will be made available for download from this site soon. Pay attention to Lugnet for an announcement regarding their availability.
Help & Contact Info
There are two methods of obtaining help for with LDraw and MLCad. The best solution would be to post or search in the LUGNET CAD groups. There many serious users discuss the software and would be more than willing to help you out.
You can also contact the exhibitors directly by email. Here's a list of those who were around to demonstrate the software:
Tim Courtney - LDraw.org Website Project Coordinator
Tim is the one responsible for the upkeep of the website and also is the contact for organizing the LDraw display at Kidvention.
Terry Keller - Technical Advisor
Terry has worked with the LDraw software and the site on technical issues in the past and also ran the ldraw.org official parts updates.
Bram Lambrecht - Kidvention Exhibitor
While Bram has no official position with the site, he is a very experienced user of the software and has designed many notable models with it. Bram also wrote an LDraw/LEdit Tutorial to help get new users started.
Please direct any questions or comments to one of the three exhibitors at Kidvention above. For more information on the Legoland Kidvention, please visit the LEGOLAND California Official Website.
* Note - MIBO instructions are provided exclusively for LDraw.org to use in assembling the model at Kidvention, due to publisher rights for them in a Mindstors book Jin has written.