On July 25, 1997, James Jessiman passed away. His passing at a young age stunned and saddened a worldwide community of friends.
But he will be long remembered. And that memory will be cherished by all whose lives he so deeply touched. For James had given a gift to the world. A gift that he had spent countless hours of toil to realize, then given freely to all.
The worldwide community of LEGO fans lost a bright light in the passing of James Jessiman. Here perhaps, in some way, we can keep a little of that light alive.
Since James' passing much has been done to continue the development of LDraw and related resources. The contribution of LDraw has been like a water drop causing a large ripple effect impacting all of its surroundings.
James' memory will live on in his creation and in our hearts forever. He not only contributed this wonderful resource, but his kind spirit and helping hand gave each of us a little boost. James made an unreversible impact on the world around him, which in his case was literally around the world.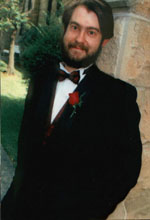 James Jessiman
Letters
Following James' death, several members of the community wrote him sentimental letters. View these here. Also, view the archive of the Memorial Guestbook.
Images
Browse our selection of images to link to this memorial page for James. Add them to your web page with a link here if you wish.
Archive
We have saved Terry Keller's original James Jessiman Memorial Page in the state it was in just before LDraw.org was launched. View the site here.