LEGOWORLD 2002 Event Report
LEGOWORLD 2002 was a success! Jaco van der Molen writes his perspective on the event.
Read the LDraw.org Event Report.
Upcoming Events
BricksWest 2003, Carlsbad, CA - February 14-17
www.brickswest.com
Past Events
Read reports, browse pictures on events LDraw.org has already attended.
LEGOWORLD 2002,
Zwolle, Netherlands
October 18-22, 2002
BricksWest 2002,
Carlsbad, CA
February 16-18, 2002
LEGOWORLD 2001,
Zwolle, Netherlands
October 20-23, 2001
BrickFest 2001,
Arlington, VA, USA
July 13-15, 2001
LEGO Maniac KidVention,
LEGOLAND California, USA
July 11-15, 2000
BrickFest 2000,
Arlington, VA, USA
June 9-11, 2000
We're Everywhere!
Well, we think we are at least...
Looking to attend a LEGO convention in the near future? Chances are you'll run into an LDraw.org staff member or two and some program authors. LDraw.org is very active in the premiere LEGO events worldwide.
One of LDraw.org's current objectives is to create a full-fledged curriculum for use at special events, a curriculum which aims to familiarize all skill levels with the various LDraw tools. This curriculum will be a major improvement towards the way LDraw.org approaches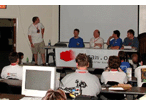 special events, and will allow the staffers to attend more events with less preparation per event. This curriculum system will see its first use at BricksWest 2002.
Get Involved
LDraw.org is always looking for individuals who are enthusiastic and knowledgeable about LDraw and related tools to help out at events. If you plan on attending an event we have listed, or would like to see us attend an event we don't have listed, drop us an email.
At the moment, LDraw.org staffers who attend events do so out of their own pockets. Its not always possible for them to make every event, or events that are held in certain locations. For this reason, we encourage you to get involved, especially if you can attend an event which members of our core staff are unable to attend.
Submit An Event
Planning a large LEGO-related event we're not yet a part of? Let us know! We'll try our best to have some representatives attend and give presentations on LDraw tools. Send an email to events@ldraw.org.